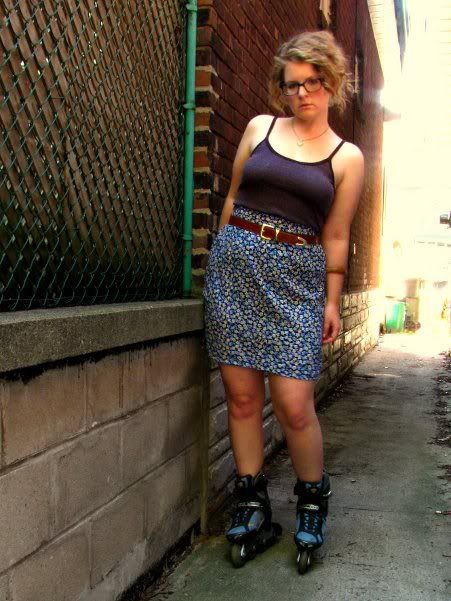 outfit deets: skirt - vintage // belt - vintage // tank - UO // bracelet - vintage
I have had a really bad streak of having my bikes stolen. Past year and a bit I haven't even bothered to get a new one - instead I just scoot around on my rollerblades. Lately I have strapped these bad boys on to deliver packages to the post office - a la
Romana Flowers
from Scott Pilgrim. Obviously I am not actually dressed like her, no cosplay happening here. I just felt a little inspiration coming from Ramona's direction. When I read the novels I always wondered how she managed to rollerblade in the snow - in the movie it showed she actually had the ability to turn the snow to slush. I wish I could do that, then I could rollerblade around in the snow!
I've always been a little bit of a "fruit booter". I played hockey from ages 6 through 18 but only played in the winter - so rollerblading was my summer alternative to skating. In high school I had friends who could do some crazy things on rollerblades, I've never been able to do anything more impressive than skate backwards but I can go pretty fast!
I picked the skirt out specifically to match my rollerblades and found out it's actually a pretty comfortable skirt to rollerblade in!
Have you guys seen Scott Pilgrim yet? Did you like it?
Have a happy Tuesday!
xo Robyn
p.s. you totally have to listen to the Scott Pilgrim soundtrack. I have it on now. It kind of rocks.