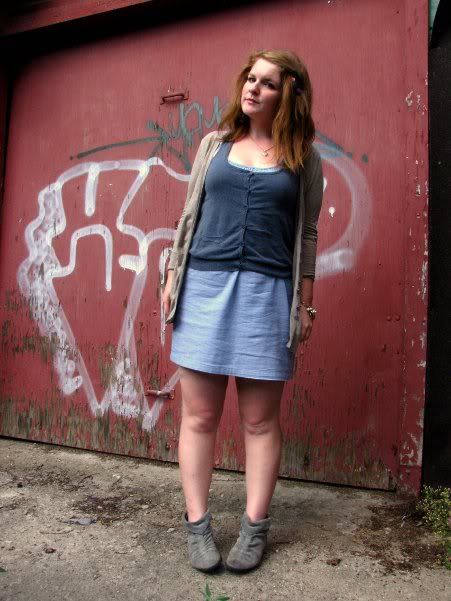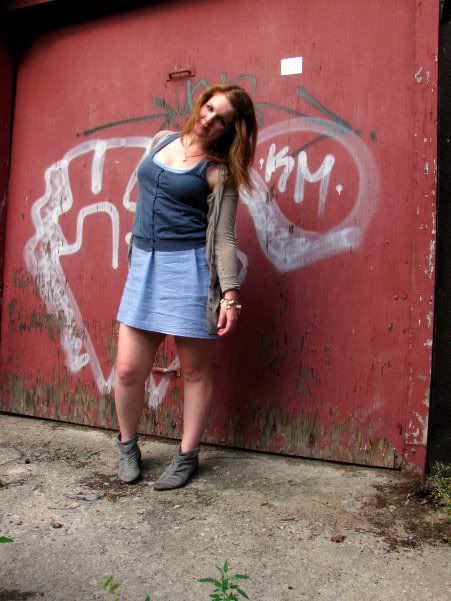 outfit deets: boots - vintage // dress - SWS // vest - H&M // cardigan - winners // bracelet - vintage
These past few days have been just a little crazy. Who am I kidding? The whole summer's been crazy. Truth is - I'm crazy, my life is crazy. It's all crazy. Now crazy sounds like a weird word. It is, though.
Anyway, before I start getting too cryptic. What I am saying is - school starts in 9 days! I am excited and a little dissapointed because I cannot take a class I was really looking forward to thanks to my schools amazing ability to schedule all of my favourite classes at the same time! Ah well. I only have one philosophy class in the roster due to my overzealousness in previous years. Now there is only a little room to squeeze in a few more lessons in philosophy before I graduate. How lame. Anyway, I am taking physics and science fiction and music in film so these are all things I love. I'm hoping it'll be pretty great.
I wore this outfit to a BBQ at my nan's place. It was a pretty ridiculous event - there was an entertainer clad in a navy polka dot bathing suit with a yellow polka dot sarong singing songs from the 50s amd 60s. My grandmother really didn't enjoy it, I think it was the bathing suit. I came home and snapped these shots in my alleyway. I love that I have an alleyway with all different types of garages. I especially enjoyed this red one and luckily I got to it before a car parked in front of it!
I was happy to pull out my little grey suede booties for the occassion. It was only about 20 degrees celsius that day, now it's back up into the 30s - so they have been put away again. This will probably be their last season though - I think they are on their last legs.
Whats the weather like where you are? Still t-shirt weather or are you having to pull out the cardigans?
I am excited to pick up some new cardis for the season.
til next time,
xo Robyn