ello ellos. Two posts ago I made mention of my jacket, and how it has a story all its own. Well, I thought I might take this opportunity to tell the story!
My friend Laura is one of my greatest partners in crime when it comes to thrifting. However, our pairing includes one fatal flaw: we are pretty dang close to the same size. One particular day we were out on what was turning out to be not the most successful of thrifting adventures when Laura lay her hands on this jacket. My first and most immediate thought upon seeing the jacket was:
Jack Harkness!
of Doctor Who and Torchwood fame. It is just a slightly military inspired peacoat but it really reminded me of a female version of his famous coat.
Anyway, Laura was unfamiliar with Jack Harkness but she fell in love with the coat too, regardless of that fact. She grabbed it first so by all accounts she had claim to it. Still, I was sad (I pouted, allegedly) and kept thinking about how great it would look with the new grey shoulder bag Dale had given to me for Christmas. It looked good on Laura though so I had to stop pouting and let her walk away with it, knowing that at least I would be reunited with it everytime I saw her in it. The thing about Laura at the time, was that she was in the process of readying to move to England and was already fretting about all the clothes she would probably have to leave behind. So on another thrifting trip a few days later (we're addicted, it's a problem, we know) she looked at me and said something like, "oh hey - remember that jacket? - you can have it, it won't fit in my luggage." The next thing she said was, "are you gonna cry? please don't." So that about sums up how I felt about becoming the owner of this vintage navy blue military inspired Jack Harkness coat! :)
Dale and I took these pictures today in the same area that we took the pictures from a few days ago. We managed to sneak them in right before the rain snow mix started coming down.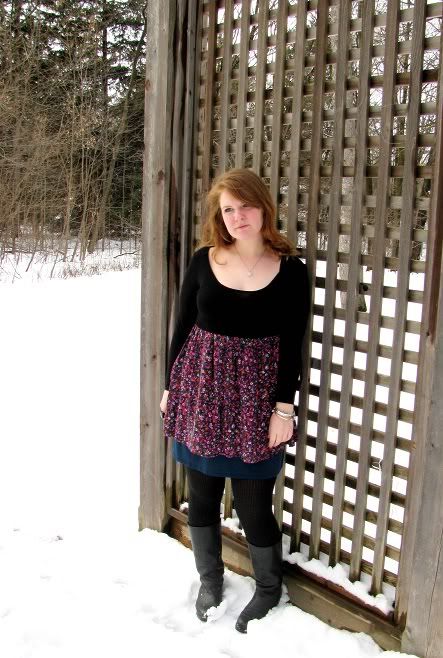 This dress from forever 21 is one of my new favourites but it is so short! I could not possibly wear it sans leggings without another and longer dress under it, or a skirt. In any case, I still love it - quite often I will belt it at the waist but today I wanted to show it on its own.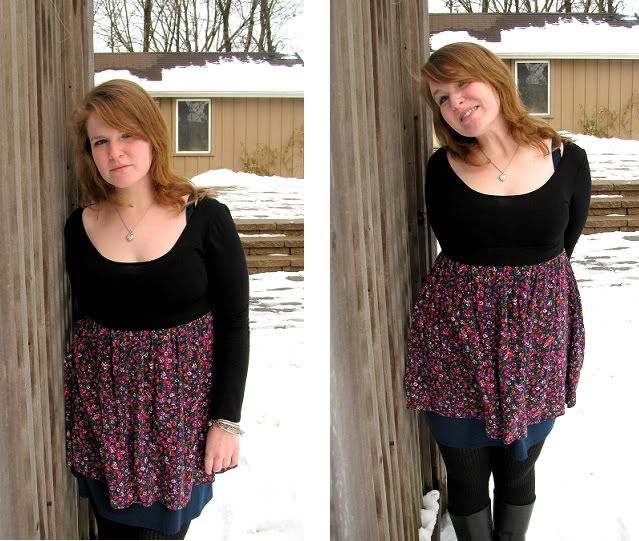 outfit details: dress: F21 // under-dress: aritzia // boots, coat: vintage // tights,beret, scarf: h&m