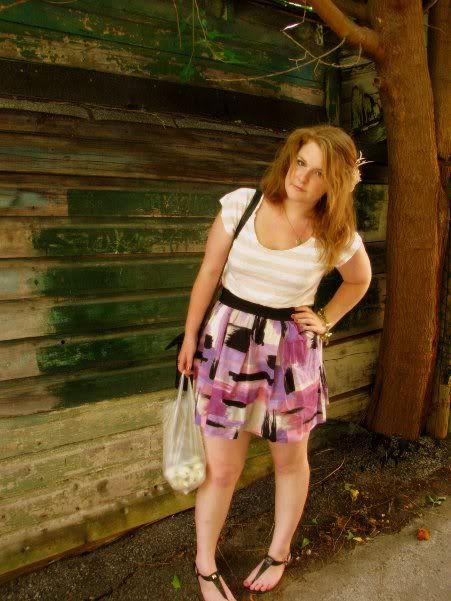 outfit deets: sandals - payless // skirt - winners // tee- h&m // bag - vintage // fascinator - find it fascinating

Hey people! So we're back to the daily outfits after the last two Rhitbee Anne Vintage photoshoot pictures. Did you guys like those photos? I was quite fond of them!
I wasn't wearing any vintage or thrift stuff today - aside from the bag. That is kind of astonishing. I wore this today for a quick trip down to bloor to grab a bite with Adrienne and I picked up some cherries and mushrooms. That reminds me! I have cherries in the fridge. Later I wore this to visit my grandmother and go thrifting.
Rhitbee Anne Vintage did a bazaar over the weekend and while I was there I saw so many other cute booths! Elizabeth of Find it Fascinating was one of said booths. I went over to check out her booth whilst Dale manned mine with the intention of just playing dress up but the instant I tried this one on I knew I had to have it. Totally gorgeous and I loved the way it looked in my hair. I'm still wearing it right now even though I'm currently in my pajamas. How do you guys feel about fascinators or big hair accessories?
That's all for today! I hope everyone is having a wonderful Tuesday.
Talk soon,
Robyn