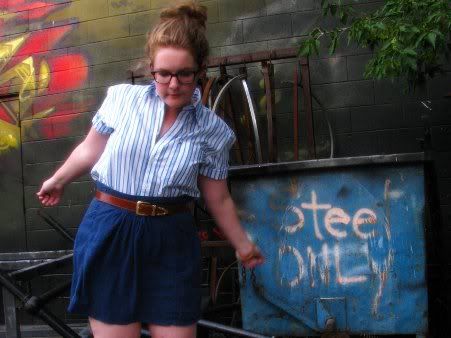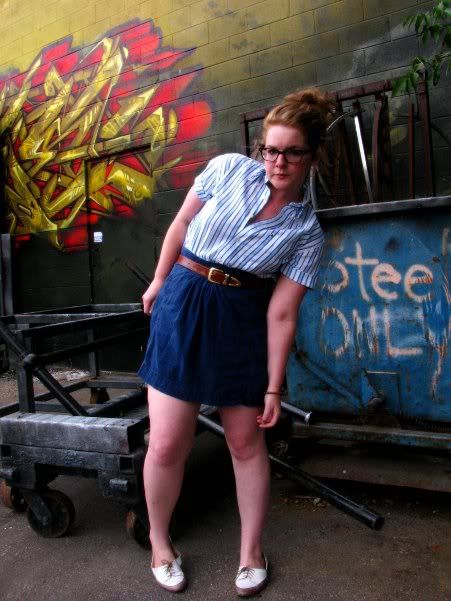 outfit deets: shoes - UO // skirt - thrift // shirt - Dales (Tommy Hilfiger) //belt & bag - vintage // bakelite bracelet - vintage
I kinda feel like Chloe Sevigny in this outfit. Anybody else getting that vibe, or is just me? I stole this shirt from Dale because I watch it sitting there in his closet not being worn and I think it's a cool shirt. I thought I'd take it out for a spin. I need to "steal" more of his shirts! I'm digging this look. I imagined the look with my hair down - but time was an issue while I was getting dressed so I went for the old standby messy bun near the top of my head. Me and my friends have a name for this hair style, for the sake of privacy lets say that we call it "Liza Milptiuzzi" hair. See, there was this girl in High School who almost always wore her hair in a bun on the top of her head. So now whenever one of us rocks the bun on the top of the head we call it a "Liza Milptiuzzi". I was rockin' a Liza Milptiuzzi yesterday, though no one rocks it better than Liza herself.

Can we just talk about the background that's going on here? I found it in an alleyway close to my house. Not sure what happens in the building behind it but it's a cool building. There used to be different graffiti in that area so thats why I went there - only to find out the graffiti occupying that wall currently is even cooler. Kinda feel like I'm in a comic book or something. I shoulda broke out my tae kwon do poses! Drats. Anyway I was pleased to find this little spot. I might have to take a trip back there one day.

I added some new stuff to the shop yesterday, check it out:

Finally, I have a question for you lovelies. Where do you buy your tights? I know it's not Fall yet but I am going to be in need of some new tights soon! In past years I have pretty much bought exclusively from h&m in the tights department but I'm ready to switch it up a little.
Anyway, that's all for today!
Have yourself a wonderful hump day,
xx Robyn