Hey guys, no outfit post today. Instead, I leave you with some items I am seriously considering as autumn must haves. I am into the idea of keeping with a neutral palette this Fall and then pairing the neutrals with some fun pastel colours in the form of accessories or hosiery. I've always been one for wearing certain pieces all throughout the seasons and just styling them up differently according to the weather and season. I think adding some pretty tights, new oxfords and some rad knee-high lace up boots would bring my wardrobe into Fall quite nicely. I am loving brown and orange for the Fall and I simply need that ecote faux fur collar jacket! So perfect. I want that lace top from the bicyclette boutique in cream, I think. I can just imagine pairing it with a my rusty orange skirt. Now if I can just muster up the funds to pay for all of these things I will be so ready for Fall!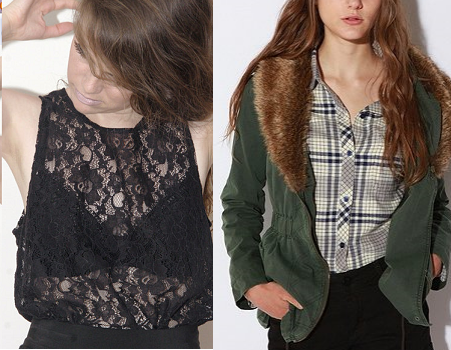 pastel mint, peach, mint green, maize, dusty green and baby blue tights from
We Love Colours


Whats on your Fall wishlist? Send me some links! My list just keeps growing anyway.
xx Robyn