I've been thinking today about definitions of style and how one might go about defining their own personal style. I have a really hard time doing this because my wardrobe contains pieces from all over the place. I know what kind of image I'm going for in my head, but I can never quite put a label or name to it. This becomes difficult when websites like Chictopia ask me to classify my style in terms of an era or label. My clothing is very rarely all from one era and I'm never really doing a theme. I usually end up putting "classic" "casual" or "vintage" if enough of my pieces are vintage. This is getting boring though! I'm not saying I want to be able to classify my style, I think it's not so necessary, however, it can be helpful for sites like Chictopia. What do you guys think? Do you have a hard time like me defining your personal style in terms of labels? Do you think it's easier to connect with readers if you have a "define-able" style? Let me know in the comments!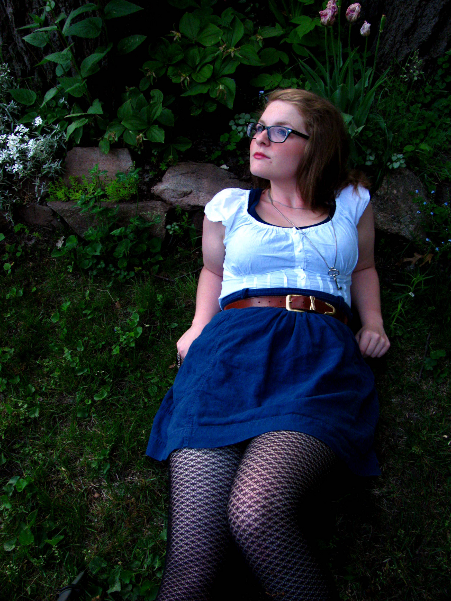 outfit deets: shoes, belt - vintage // tights - h&m // skirt - thrifted // top - Le Chateau
This is what I wore today, all day, and it was really comfortable. It was another boiling day so I was happy to be wearing white on top. I liked the look of the tights, because I didn't want to appear too casual - but it would have been cooler without them. Didn't matter so much though because I was in an air conditioned office setting for most of the day.

I liked the way these pictures turned out today - it was just starting to cloud over as I snapped them so I liked the lighting that provided a lot. I had fun with it. Now as I am sitting here I hear thunder rolling in. Time for showers!