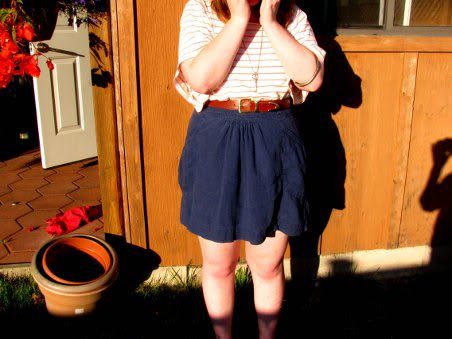 It's been a little too long since I took some outfit shots. Today I am remixed two pieces you've already seen before seperately (
here
and
here
). Plus my current belt and brogues du jour. This summer I have been going back to the same pieces over and over again it seems and I'm OK with that. Summer dressing is the easiest kind of dressing I think. In summer I favour comfy, breezy, slouchy and thrown together over the structured, calculated outfits I gravitate towards in the winter. I like being able to throw on a tee and skirt and call it an outfit.
My friend Persia took these shots before we BBQ'd it up in her backyard. I'm standing in front of her shed just goofing off.
The picture above is of the oversized bangle I'm wearing today. It's my moms and I used to admire it when I was little but it was always so gigantic and I could never actually wear it. I rediscovered it today after many many years and now it fits perfectly just below my elbow!
outfit deets: shoes - deena and ozzy via UO // skirt - thrifted // tee - h&m // belt, bangle - vintage
Also, since I posted last I've added some new items to the shop.
Check it out!
Anyway better get going. Feeling sick from all the food I ate today!
xxRobyn