Heya lovelies. Several times I have iterated the actual challenge involved in this particular wardrobe challenge. It's just that I can never seem to find enough time in the day to photograph my outfit. However, I refuse to give up and I have been documenting my outfits throughout the days even if I can't photograph them on me. I have staged my outfits for days ten through fifteen and photographed them that way. I actually quite like the way they turned out.
outfit deets: jeans - American Eagle // blazer - vintage // accessories - vintage/H&M/Mexx // tank - bicyclette // clutch - upside of wonder
outfit deets: dress - H&M // shirt - H&M // sunnies - Forever 21 // necklace - vintage // bobby pin - chile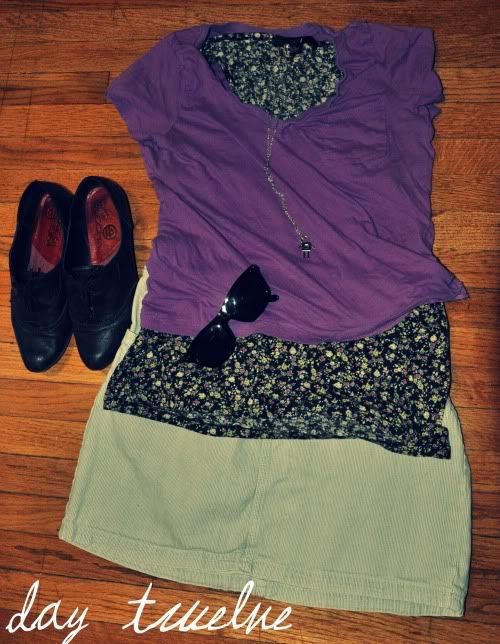 outfit deets: skirt - H&M // tank & tee - forever 21 // shoes - c/o Big Buddha // sunnies, necklace - Forever 21
outfit deets: romper - vintage Express // belt - vintage // purse - H&M
If I can't photograph the rest of my outfits for the challenge actually on me I expect I will do this again.. I have a busy week at work looking forward to the grand opening of the new store!
On a slightly different note, I am going to be making some changes around here pretty soon (specifically when the Wardrobe Challenge is done). I thought about starting up an entirely new blog when I began dreaming up new directions for my online presence but I decided all of this new stuff would work just fine within the umbrella of Rhitbee-isms! So look forward to that and I promise I will explain soon.

Talk soon lovelies.
xo Robyn