I love white for the summer and spring. There is something so fresh and crisp about a clean white shirt. That is, if you can keep it clean for the whole day. I am not so great at keeping white things white for extended periods! Although I did OK with this shirt when I wore it. Right now Forever 21 is stocked full of cute white shirts and dresses and I have been lusting over so many of them. Alas, I am still not allowed to buy anything for a few weeks. Eek! This is a shirt I have had for many many moons. My mom bought it for me a long time ago and I didn't like it at all when she first presented it to me. Now I cannot get enough it with it's cute little ruffled collar.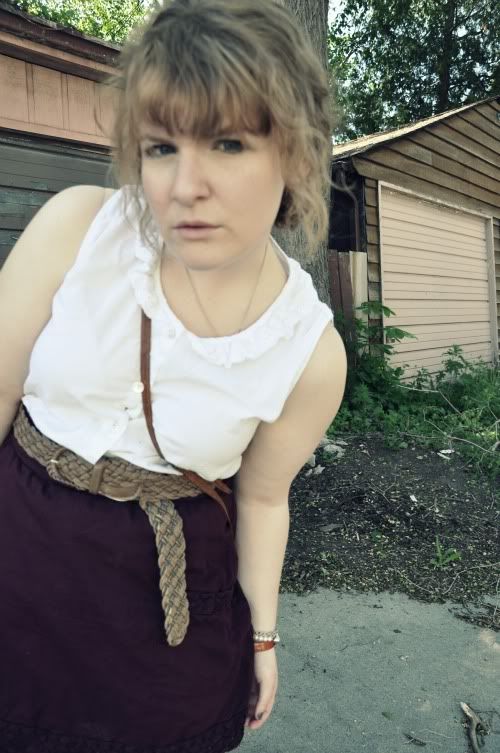 This was my first go at using Dale's Nikon D90 to do solo outfit photos with the tripod. It worked out OK but spent too long trying to get the effect I wanted to no avail. I must practice a lot more with it! It is much more complicated than my regular ol' Canon SX110.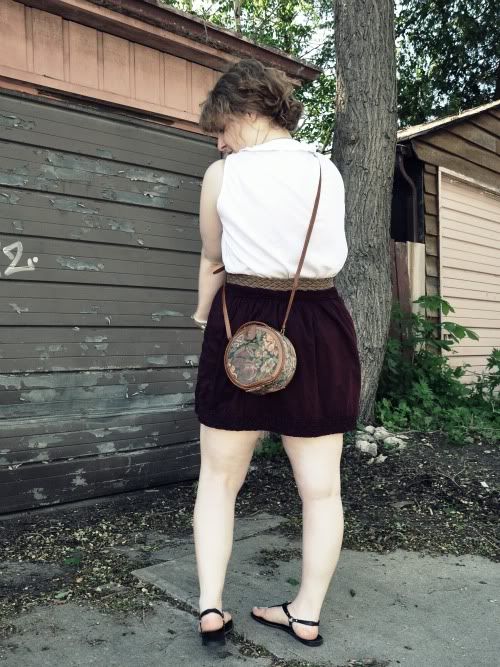 I'm still playing catch-up with these blog posts for the wardrobe challenge! So far the challenge hasn't been about wearing something new everyday but rather about taking photos and making a blog post everyday.
outfit deets: sandals - Payless // skirt - Forever 21 // top - Vintage // belt - vintage // bag - vintage
Talk tomorrow lovelies!
xo Robyn