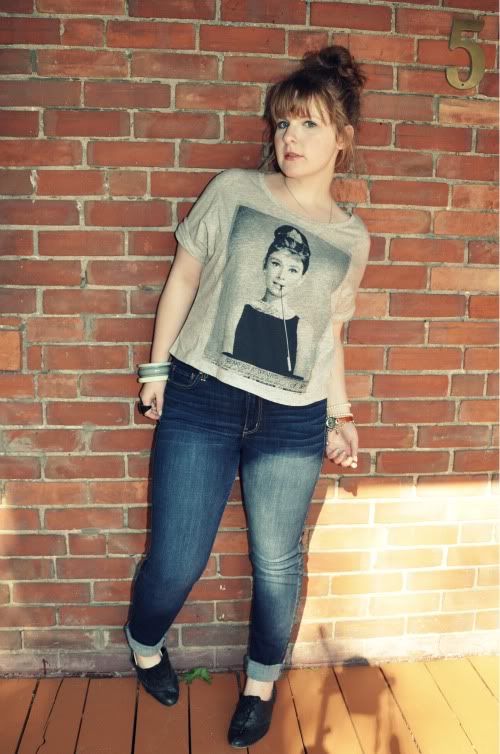 Day Nine of the Wardrobe Challenge is upon us! How sweet it is. PLUS - it's Friday. *happy dance* ALSO, two posts in one day! Eegads. I really am playing catch- up here. I have been waiting and waiting to wear this shirt since I got it right before the challenge started! Finally, I wore it to work. I took on the themed tee by painting my nails Tiffany blue and throwing on some similarly coloured bangles.
I love Breakfast at Tiffany's. I wrote a research essay about the music in it last semester. I really loved every minute of listening to
Moon River
over and over! It's such a silly little movie on the surface but Holly Golightly (Audrey Hepburn, of course) is so wonderful in it and I found that she really has some meaningful and insightful lines.
My favourite line comes up in a conversation between Holly and Paul:
Holly: You know those days when you get the mean reds?
Paul: The mean reds, you mean like the blues?
Holly: No. The blues are because you're getting fat and maybe it's been raining too long, you're just sad that's all. The mean reds are horrible. Suddenly you're afraid and you don't know what you're afraid of. Do you ever get that feeling?
Paul: Sure.
Holly: Well, when I get it the only thing that does any good is to jump in a cab and go to Tiffany's. Calms me down right away. The quietness and the proud look of it; nothing very bad could happen to you there. If I could find a real-life place that'd make me feel like Tiffany's, then - then I'd buy some furniture and give the cat a name!
Ooh how I know the reds! Holly is saying so much here, I could write a whole paper just on this quote! Alas, I will refrain!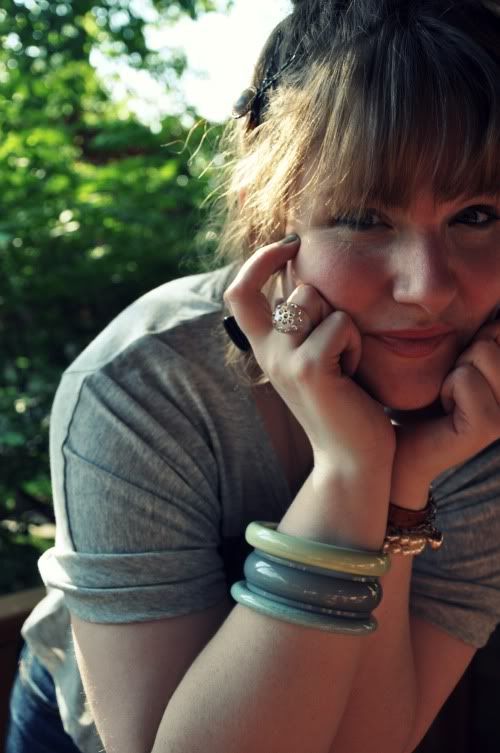 outfit deets: shoes - c/o Big Buddha // jeans - American Eagle // tee - Forever 21 // bangles -vintage // bracelets - Forever 21
Have any of you lovelies seen Breakfast at Tiffany's? No? JEEZ! What are you doing with yourself? Go out and watch it right now. It's 50 years old this year - I think that makes it OK to go download it! Do movies work that way? I don't think so. In any case, it is most certainly a must see.
Happy Friday!!
xo Robyn
p.s. did this post show up in your google reader/blogger dashboard? I have been having troubles with that lately and am unsure of what the problem is!