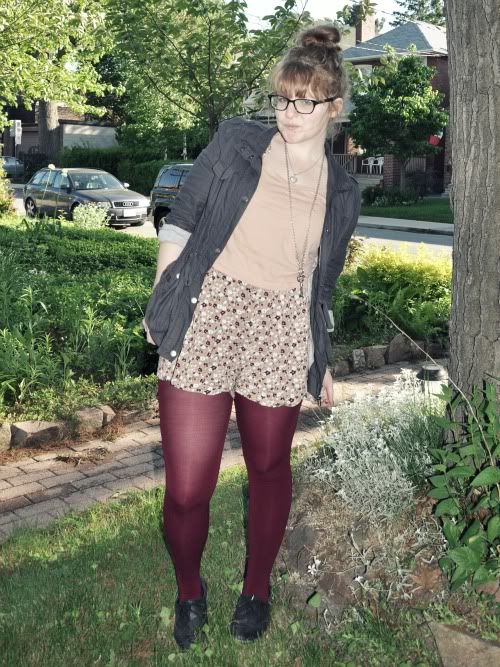 Julia is right! The wardrobe challenge really is rushing by at an accelerated pace. I hope you guys are still with us. I know it's a lot to take in everyday but hopefully you guys are finding it interesting!
Do any of you gals take your outfit pictures with an SLR and a self-timer? I can't figure out how to get the focus working properly when I am not behind the camera and so my full outfit photos are not up to the kind of quality I would like! I'm still a noob with this whole SLR thing so any advice would be muchly appreciated!
outfit deets: shoes - c/o Big Buddha // tights - We Love Colors // jumper - Forever 21 // tee - H&M // jacket - Bicyclette
I actually loved this little outfit! I picked this jumper up at Forever 21 a little while ago because I was so in love with the shorts and cute little floral print. Plus, I don't really have many jumpers - you can't see the top of it because I am wearing a tee over it but it's kind of a little floral pair of overalls. So cute! It was a little chilly so I threw on the jacket and it was a great outfit for running around doing errands.
I hope you guys are all doing well! Happy Weekend lovelies.
xo Robyn