Hello lovelies! I have big news today so I am just going to jump right in. Do you guys ever find yourself staring at a closet full of clothes feeling like you have nothing to wear? I know I do. ALL of the time. A lot of the time that feeling is the one that sends me running to the thrift store, online shop, or mall in search of new things to wear. Truth is though, I have tonnes to wear - I have a whole (giant) closet full of clothes to wear and yet I regularly wear probably less than 40 percent of it.

With all of this in mind I naturally accepted when my friend Julia came to me with her wardrobe challenge idea. Her idea involves really testing the limits of our closets by trying to not repeat any single item of clothing for 30 days. Once an item is worn within that 30 days, I can't wear it again! This is going to be especially hard for me because I have some new favourite items that have been in real heavy rotation for the past weeks (ex. high-waisted jeans and floral blazer). However, it is going to allow those items in my wardrobe that haven't seen much daylight to get some much needed fresh air and more importantly it will to give me the opportunity to exercise my creativity and really get innovative with my outfits. For a whole month I will be unable to rely on go-to outfits or old stand-bys! No shopping for the 30 days either. We'll get more in to the official rules on day one, for now though I think I really ought to introduce my partner in crime and the brain behind this project - Meet Julia Bee! (Just so you know, her writing will always be in italics)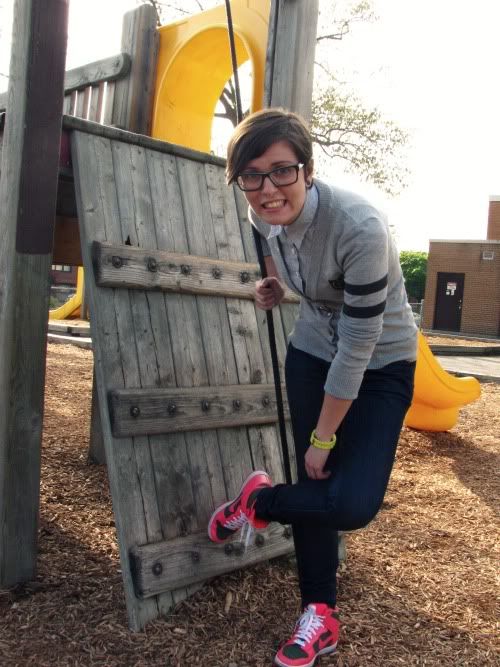 Hi Rhitbee Readers! As Robyn has written above, this is going to be a 30 day challenge and collaboration between two friends. Now, you've gotten to know Robyn pretty well over the past little while, but who am I and what are my connections to Robyn, this particular challenge, and even to fashion itself? Good questions, readers, good questions.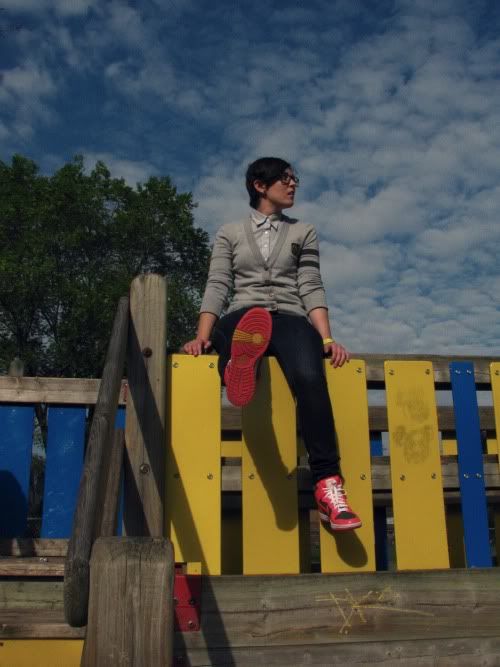 My name's Julia and me and Robyn, we go way back. At this point, she's my fam. I thought of this project recently while looking through my closet on a rather routine cleaning day. During my bout of sweater folding I had a passing thought: "Man, I have a lot of shit, I bet I could go a whole month without repeating a single article in here if I tried." As I considered it in greater detail, I realized that there could be more to my passing thought. It could be used as a launching pad for a much bigger creative and political statement: "Let's use our imaginations instead of our wallets to express ourselves through fashion!"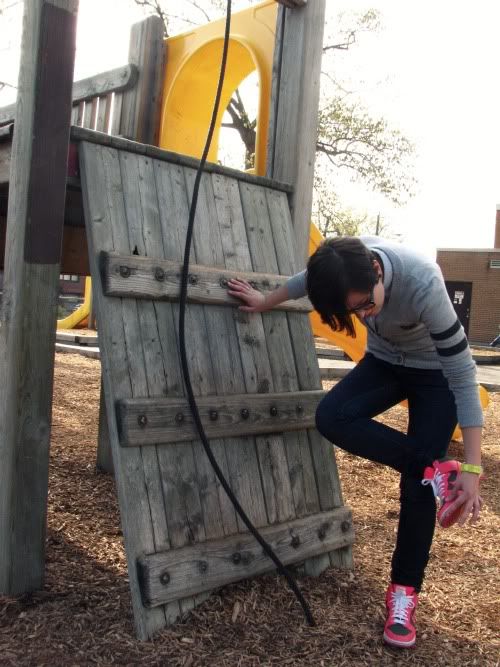 Julia's outfit deets: shoes - Nikes // jeans - UO // cardi/shirt - bluenotes
When this idea came to mind, so did Robyn as the person to visually explore it with. Besides the obvious factor of her already having an established fashion blog, she also has a different personal style than I do and would interpret the challenge in a totally interesting and unique way. Lastly, she's just super fun to talk clothes with! If I had to sum up our styles, I would say Robyn's is about flowers, lace and those pointy oxfords she always wears, where as I'm for loud colours, raw denim and sneakers. It's going to be an interesting month.

Anyways, that's my spiel, but I hope you guys will stick around to see where this project takes us and maybe even participate in it yourselves. I'm stoked for this challenge, and look forward to seeing what outfits Robyn and I come up with! Hope you like it and happy blogging!

- Julia Bee

Awesome! Thanks Julia. Alright so now that you have met Julia we can get this thing going. Day 1 starts this Monday May 23rd. Both Julia and I's outfits are going to be featured here every day for the next 30 days if it all goes according to plan. If any of you guys want to join in, let me know, that would be so awesome! Basic rules are: no repeating items of clothing within the 30 days and no shopping. I am a huge fan of remixing and Kendi Everyday's
30 for 30
and so this is going to follow the same format a little bit but just with totally different rules. No remixing and no repeating! It's going to be hard, I know - but I'm pretty sure we can do it!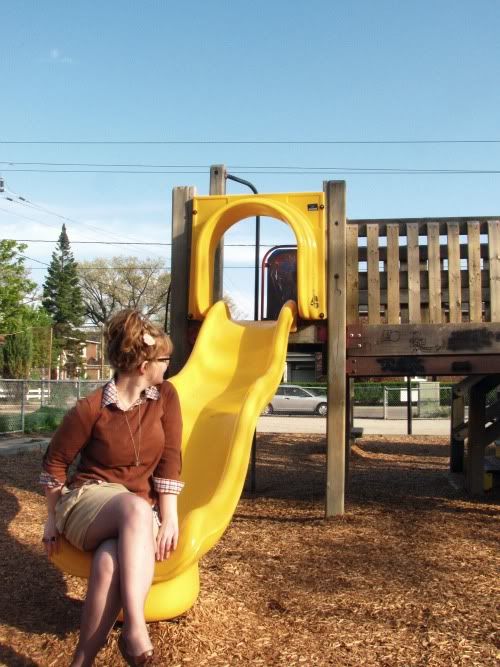 My outfit deets: shoes - c/o Big Buddha // skirt - H&M // shirt - vintage // sweater - H&M
It was fun to take outfit pictures with Julia today. I'm used to standing in front of the camera by my lonesome most of the time. Expect us to take our outfit photos together at least once a week for the next 30 days. I'm looking forward to it!

Alright loves, thanks so much for reading through this lengthy post. There was a lot to be said.

I hope you will follow along or maybe even join in. I am so excited!!

Talk soon and see you guys on Monday for day 1!

xo Robyn