Heya lovelies! Eeek so we have some catching up to do with The Wardrobe Challenge. We have quite a bit of blogging to do in the next few days so I am going to keep my talking to a minimum and leave you all with Julia.
Outfit deets: Skirt - Mexx // blouse - Esprit // Cardigan - Bluenotes

Hey Blog Readers! I once again have to apologize for my lateness. Robyn is way better at this outfit photography than I am. Anyways, this is my Day 4 outfit. It may be my favourite thus far. I volunteer on Fridays in a kindergarten classroom so I like to dress with a bit of whimsy. The 5 year old girls love it. Sorry there is only one (totally obvious) test shot! It was taken just before the camera battery died when I was in a rush to get out of the house and grab some dinner with friends. It oddly works though, I think!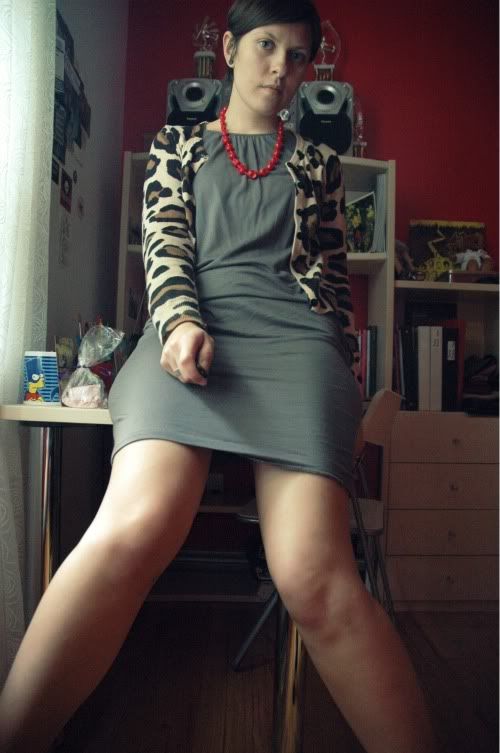 These pics were taken while having a particularly pretentious Saturday afternoon. I decided I should keep my side of the 30 Day Wardrobe Challenge while take a break from reading (and trying very hard to understand) an MA anarcho-primitivist political science paper, and making notes while watching the movie Shortbus for an upcoming paper I am writing about it. All while blasting Britney Spears' new album. I guess the last part's more silly than pretentious. Either way, I haven't worn this dress in probably 2-3 years but I guess that's the beauty of this challenge. You discover some forgotten stuff in your closet. - Julia Bee
Outfit deets: Dress - Club Monaco // Cardigan: H&M // Shoes - UO online // Necklace: garage sale when I was like 9 // Rings: UO online, Rhitbee Anne Vintage
I'll be back tomorrow morning with Day Six!
xo Robyn