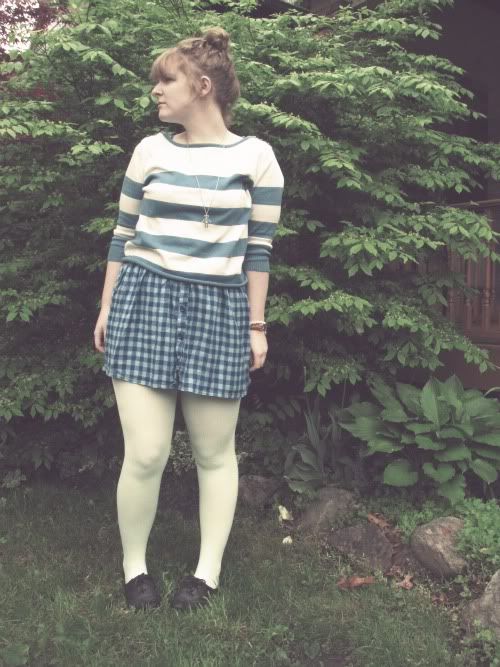 Oi! So if you can't tell - today was not a good day for pictures, at all! I probably just shouldn't have told you and let you assume I meant for the pictures to look this way, but I really didn't. There's at least one thing I hope for in the pictures I post to this blog and that is some semblance of uniformity in lighting and colour and texture but I am not getting that at all in these photos.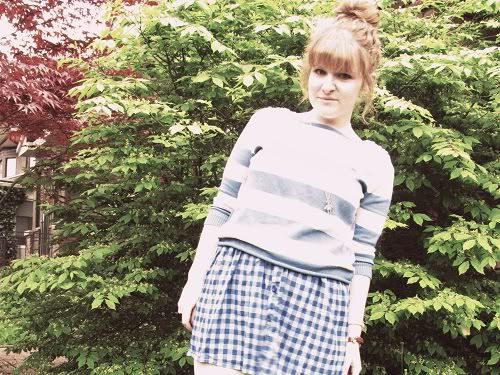 Alas, I had to make due because of the nature of this challenge! An outfit everyday. This dress is probably too short, but I wore it anyway for bumming around the house and neighborhood. The stripe/plaid combo worked out nicely and was a welcome change from the oft repeated stripe/floral combo.
outfit deets: shoes - c/o Big Buddha // tights - c/o We Love Colors // dress - Urban Outfitters // sweater - Forever 21
Have you guys meet my little robot friend pictured below? It was love at first sight when I saw him at Forever 21 - he stuck out from all the other little robot necklaces they have there right now. With his little jewel heart and funny little stick arms and legs - too cute!
Julia is currently having some camera troubles so I might have to put together a post of her day four, five and maybe six later. For now though, at least you have me! hehe.
Talk soon lovelies!
xo Robyn