Hello all of you wonderful people! Today I bring to you the first edition of a new monthly feature that will be happening here at Rhitbee-isms entitled "That's Soo...". It's a funny name, I know, but I thought it best described the nature of what I want this feature to be! It is inspired by those instances in which we go shopping with friends or family and they pick out and hold up an item and say "you have to get this - it is SOO YOU!" As if there is something about the item in itself that oozes your personality and style to them. In this feature I want to explore this phenomena and the idea of signature style. It's fun to explore on your own but it's even more fun to explore with friends so I thought we could learn more by getting some of my very favourite fashion bloggers to answer some questions on the topic!
I thought who better than Kate of
Postcards From
to start the feature off! Her blog is a must-read and she is a source of endless inspiration with her gorgeous outfit photos and wonderfully written and thoughtful posts. She was kind enough to answer some questions I had about the idea of signature style. So without further ado: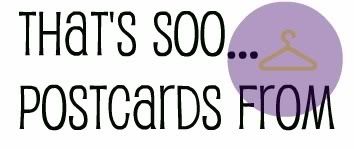 What are some of the types of items people tend to think are 'sooo Kate'? Has anyone ever been way off?
What a fun question! I cant tell you how many times I have had friends or people who hardly even know me tell me "I was shopping today, and everything just screamed 'Kate!!' - and I am always wondering 'What does that even mean?!" I think one of my signature items is tights. You will find me wearing tights 95% of the year, and that is definately a "sooo Kate" item. Usually items that people tell me remind them of me are filled with floral patterns, leather, velvet, and anything that looks like it is from a different era. About two years ago a girl bought me a dress as a gift that she said 'suited me perfectly' as soon as I opened it I laughed so hard with her saying "What were you thinking?!" it was skin tight, super revealing, and bright yellow! I couldnt think of an item more unlike Kate than that!
Do you think you have a signature style? If so, what are some features of it?
I definitely think that I have a signature style! My blog readers can usually tell when I wear something on my blog that isnt very 'Kate'. I think my signature pieces would obviously be tights, dresses, vintage boots, and unique accessories whether they be hair pieces, necklaces, rings, etc.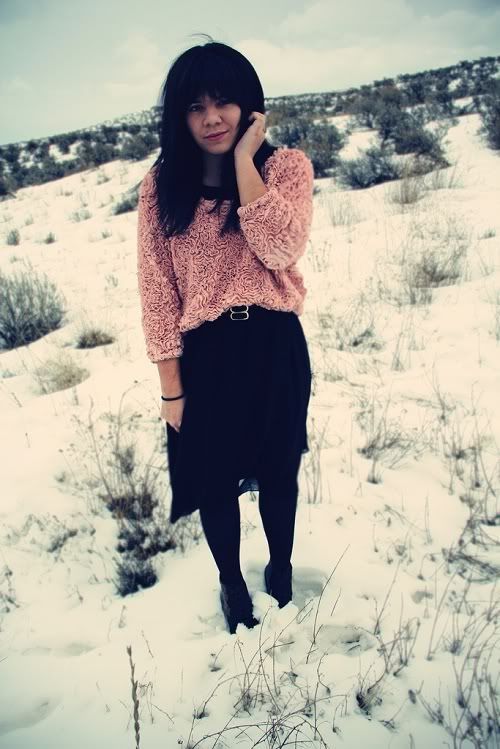 Have you had different styles over the years? That is, what was 'sooo Kate' in years past?
Hehe, this is a question I am almost embarassed to answer! I grew up wearing my moms clothes and shoes to elementry school because I wanted to be a grown up so incredibly badly. In Highschool I went through a few different stages which I dont usually share, but I will give you a bit of a sneak peak into my humiliating moments. Grade 9 I became obsessed with basketball and spice girl inspired platforms. I would wear jerseys and big block heels to school every single day. My personal style truly developed in Grade 11. I started to not care about what people thought of me, and wore what made me happy. I grew a love for vintage dresses and floral and it just sort of stuck since then!
Lastly, if you could pick one person who you thought really had a signature and 'sooo them' style who would it be and why?
I would say Audrey Hepburn. She is my idol and I am utterly fascinated by her. Every outfit she wore I always think "That is SO Audrey" She got it perfect every single time. She had this incredible gift to make every look of hers classy, glamorous, and still a bit mysterious. Shes an absolute fashion genius!
Thanks Kate for your awesome answers and thank you guys for reading! I advise you all to check out her
blog
if you haven't already. Have you guys had experiences with friends, family, or readers picking up on your signature style? Ever had people get it totally wrong?
xo Robyn