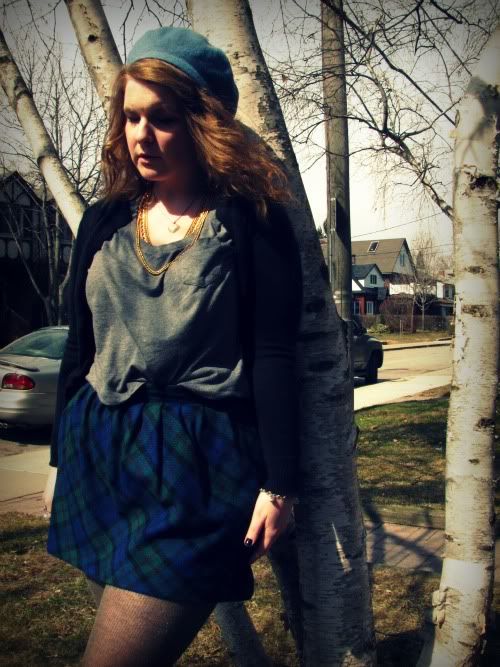 outfit deets: shoes - c/o Big Buddha // tights, tee - H&M // skirt - Old Navy // cardigan - thrifted // hat - my Nans (I think)


At the end of the day, you've just got to say "it's all right!"
Talk about "on repeat" I'm quite literally listening to Ordinary Day by Great Big Sea over and over right now. Two on repeats in a row? I'm on a roll! I just love this song, and I love Great Big Sea. To me, st. paddy's is not a bona fide holiday here in Canada. It's pretty silly but none-the-less I am OK with the underlying feel of the holiday. I'm not sure why, but I get this sort of care-free, laid-back but also Rant and Roarin' East Coast vibe from the day. That's why I'm listening to Great Big Sea today. I know I'm from Toronto, and have not even been to the East Coast since I was real little but I still identify with East Coast living. My dad is a true Newfoundlander, that's probably why.
Anyway, I forgot it was st pats until this morning when I turned on the news. I had a completely different outfit planned but figured I wanted to put a little green on. My favourite part are my greeny shoes!
"Wayhayhay it's just an ordinary day, and it's all your state of mind..."
Seriously - words to live by! Especially the wayhayhay part.
Happy Green Day!
xo Robyn