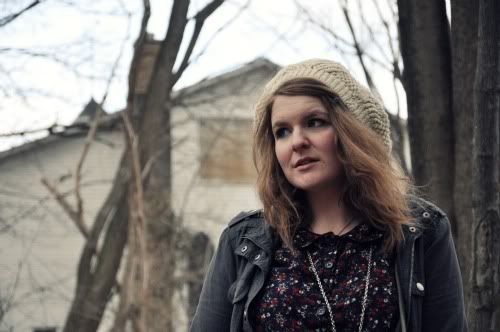 outfit deets: shoes - c/o Big Buddha // tights - UO // dress - F21 // jacket - Bicyclette // cap - Nans
Me and my friends always used to say that our lives hurt whenever we weren't having the best of luck or weren't feeling good or were generally feeling disenchanted with life. My life hurts today. I think it's mainly because my hair is driving me bonkers. Haha, oh boy I'm a winner. It's the little things that make me happy but it can also be the little things that drive me nuts.
I've been remixing this dress a lot lately. I just love it so much that I want to wear it all of the time. In fact, I love it so much that Dale is washing it right now so I can wear it again tomorrow, haha!
I've been thinking about moving my blog over to a different platform lately, like possibly tumblr? Do you guys have any experience with tumblr or moving your blog? I'm a little scared but I think it might be time for a change. I don't know if I will end up doing it but it is something I am thinking about.
Happy weekend lovelies! I am going to see the movie Paul today with Dale - I'm excited, I hope it's good!
xo Robyn