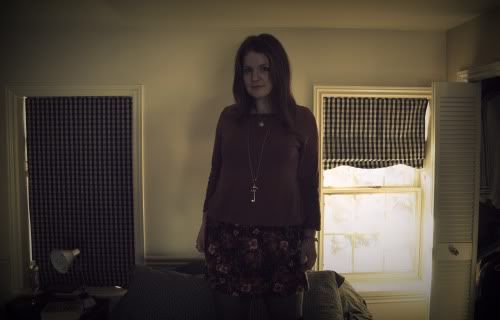 outfit deets: socks - AA // tights, sweater - H&M // dress (worn as skirt) - Forever 21

Today was another one of those bitter cold days when we just couldn't be arsed to take photos outside. So instead of braving the cold sans jacket - I didn't even get out of bed for these! Sweet deal.
Dale took me shopping on Tuesday! lessthanthree. I got this sweater, and a skirt from H&M as well as a bag full of goodies from Bath and Body Works. I had been eyeing this sweater for awhile and when I saw the way Meg of
Bow Ties are Cool
style it up I wanted it even more! Not to mention, it matches this dress so well. It's like they were made for eachother.
Anyway, I just wore this for class, brunch and then general lazerbutt activity at Dale's (a.k.a. DeathNote, Paprika, Community watching). Tomorrow night I am headed to the cottage with my dad and the girls for some snow mobiling and other snow related activities including but not limited to freezing our asses off. We are unofficially celebrating ~18 years of being friends. Expect some pictures from our weekend adventure, but don't expect them to be very fashionable, I plan on wearing at least 8 layers of clothing and a snow mobile helmet...at all times.
HAPPY WEEKEND.
xo Robyn