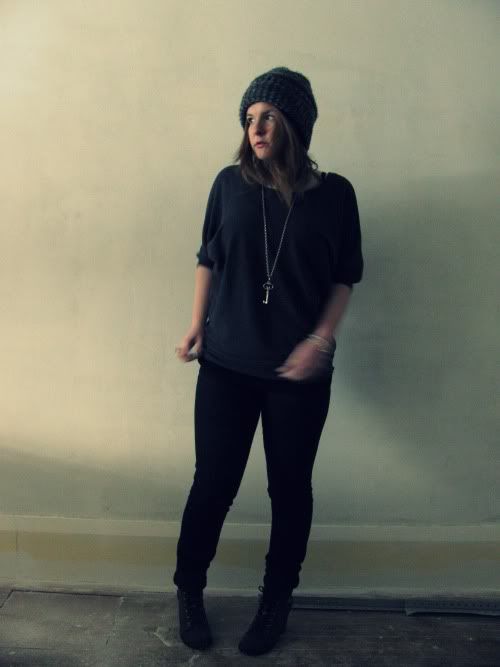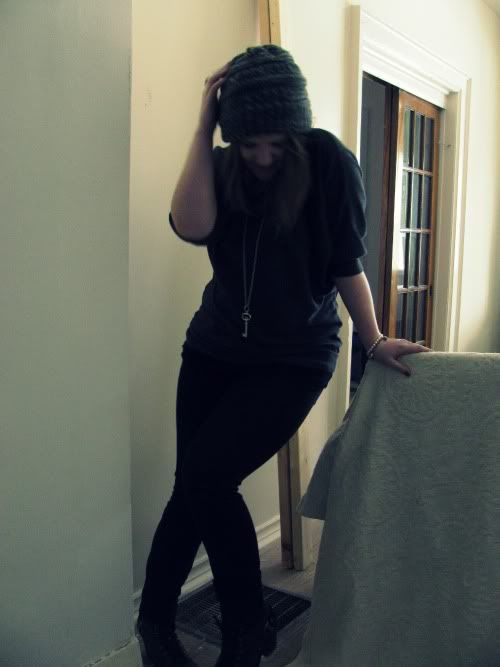 oufit deets: shoes - c/o Big Buddha // jeans - American Eagle // top - Forever 21 // hat - thrift

I've worn a really
similar outfit
before. I made just a few tweaks to make the outfit more suited to winter. A thermal tank, some lace up booties and a fuzzy hat did the trick quite well! It's been so bitter cold I just cannot bring myself to take outfit photos outside. I don't like taking photos inside generally because I just can't get good lighting and the photos always end up dark and blurry! The blur is what I can't stand the most. I ended up just taking photos in the same area I took my last outfit photos because since we've torn down some walls the lighting is pretty good in there!
I have been wearing a lot of muted and dark tones lately. I just can't bring myself to wear too much colour. I always end up in style ruts this time of year and all I want to wear is black and grey. Not in a "I want to hide and blend in" kind of way, but in a "screw you winter" kind of way. If winter gets to be grey and moody then so do I!
Happy Monday people. I'm off to go brood about the weather. haha!
xxoo Robyn