One of my fave shows that is currently on the air right now is Community. I love meta-humour and Community is ALL about that kind of humour. Yesterday I realized after the fact that my outfit was inspired a whole lot by
Britta
from the show and her wardrobe, what with the boots, chain and jeans. So I thought I ought to run with it and so today I did an
Annie Edison
inspired outfit. Annie is all about the cardigans, short skirts, ruffled blouses and flats. She also has a signature pout that I was trying pretty hard to emulate up there but as you can see it was just not working out for me! Don't laugh. The things I put on the internet.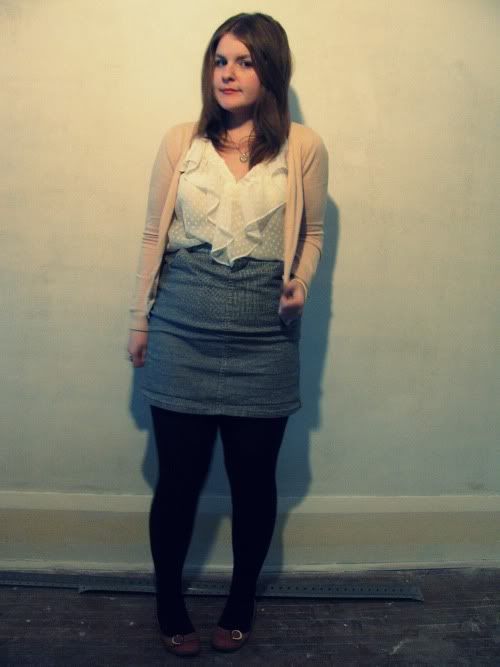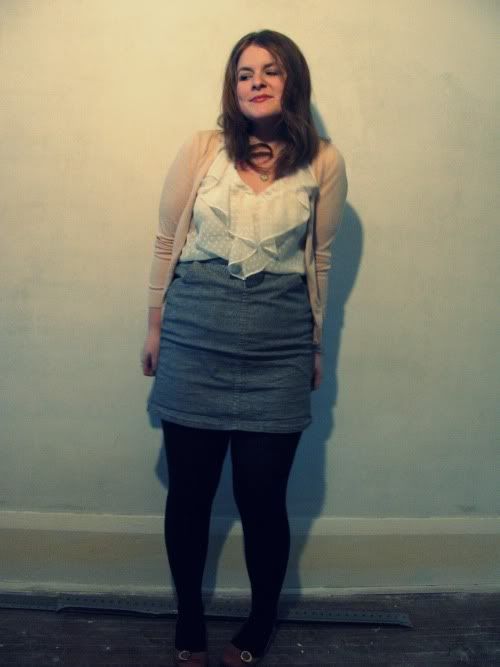 outfit deets: flats - Payless // tights, cardi - H&M // skirt - vintage // blouse - thrift

For those of you who don't know Annie Edison (or Alison Brie) is also
Trudy Campbell
from Mad Men! I watched pretty much the entire first season of Community without making that connection even though I love both shows. I think that in itself is a testament to Alison Brie's acting abilities. She is also the most amazingly lucky girl in the world, she has access to two awesome wardrobes. Some girls have all the luck, or skill...or something.
Once again, I'm not so super happy with how these indoor photos are turning out. I don't know why I have become such a suck lately but I just can't get myself outside for photos. Maybe Thursday, maybe the D90 with coax me.
Anyway lovelies that's all for today. Tomorrow = Abed inspired outfit, or maybe Pierce...or maybe not! haha.
xo Robyn