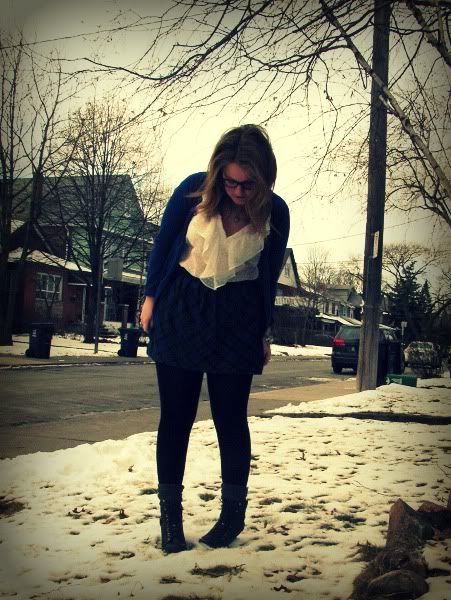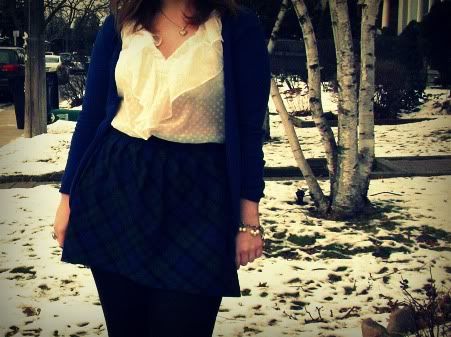 outfit deets: shoes - c/o Big Buddha // socks,tights - H&M // skirt - old navy ($5!) // blouse, cardigan - thrift

Oh my gosh, so I'm finally back! As soon as I finished my exams last week I got hit hard with a head cold for a couple of days so I was down and out and then the past few days have been straight shopping. I am done now though, with two days to spare. Yatta! I went out today to pick up a few last minutes things and also to check out the
Bicyclette
Holiday Pop-Up on Queen West! We picked up some
DaLish
lip-balms and I'm in love with them already.
I feel like the mood of these photos pretty accurately describes my mood right now. I wish I was eloquent enough to describe that mood to you, but I don't believe that I am. My outfit is festive enough - but the background is kind of stark but still moody. This Christmas is going to be the first I have ever had without my Nan being around, so it is kind of sad. I am also looking forward to it though, Christmas with the fam is always a laugh - and I love having Dale around now too for it.
I've also been in a weird mood since last night when Dale played Voyage 34 by Porcupine Tree in the car. I don't know why it's put me in a weird mood - but I feel affected.
Anyway this concludes todays ramblings. I hope everyone is feeling festive! If you aren't though, the
Rhitbee Anne Vintage Holiday Coupon Code
should cheer you up! :)
xo Robyn