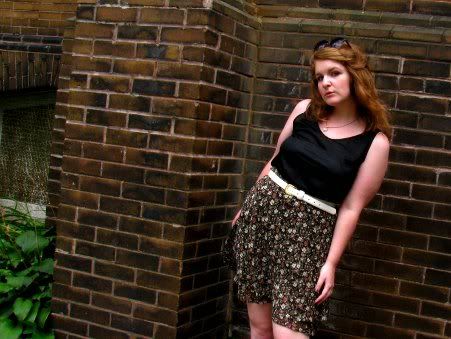 outfit deets: shoes - UO // skirt - vintage Express // belt - vintage // slip worn as top - vintage // bag - vintage
Hellos! I have had one heck of a past two days. It was bad mood central over here. I was having serious issues with school and money and ahh it was just too much for me. As the summer wraps up so do a lot of my projects I've been working on and the beginning marks the start of a lot of new projects and this is where the two meet and I've just been overwhelmed. So much so that I just broke down whilst trying to buy movie tickets online. I figured it out though and tonight I am seeing Scott Pilgrim vs The World! SO excited. I'll let you guys know how it was. Anyway, I'm feeling better now after a trip to do some thrifting and see my nan.
I wore this outfit to run some errands and go to the post office. It was pretty simple because it was so hot oustide. I couldn't wear anything heavier. I wanted a black top but something with a little more interest than a tank so I threw this vintage slip on and one of my old stand by floral skirts. I was pretty nice and cool.
I took these photos at the church my aunt used to take me to when I was little - well OK I think she took me there a few times. I remember going and wearing a plaid skirt. It's my "family church" though - and I like the brick action happening. I didn't bring my tripod so had to settle to find things to balance the camera on. I am so coming back and taking more photos.
Anyway guys, I got the photos from my photoshoot yesterday! So expect some photos from that tomorrow. Eeek so excited.
Also, Rhitbee Anne Vintage is going to be at the
Parkdale Bazaar
on Saturday, so if you're in Toronto and into vintage and handmade - come check it out!
Alright lovelies - talk soon!
xx Robyn
p.s. - if you want a sneak peak of the photoshoot check it
here
,
here
,
here
and
here
.
p.p.s. The Giveaway!
Enter it
:D