Guys! It is so disgustingly hot out. Holy crap I can hardly believe it. I was sweating while these photos were taken and doing a lot of flipping hair out of my eyes so excuse me if I'm looking down a lot. Also, I was too distracted to notice I cropped out my shoes. Oh well, you guys have seen my deena and ozzy brogues already! Final outfit note: my skirt is totally wrinkly I know! It wasn't when I left the house - I swear!
Despite the hot weather I was so comfy in this outfit today! I always stayed away from pinks and lighter colours for fear of it washing me out. However, I don't think these colours are washing me out at all! I actually quite like them. Thoughts about light colours or pastels and fair skin? I wore this outfit to stay cool while I went downtown to pick up some flyers for the summer co sizzling sale that Rhitbee Anne Vintage will be taking part in. Very excited! I also met up with some friends for lunch and had a hamburger that was delicious but stomach killing. I am iron deficient but find that I have a hard time digesting meat and sometimes protein in general, I think. Just wondering - do any of you gals have the same problem?
Later I did a photoshoot with all the new jewellery at Rhitbee Anne Vintage!
Check it out guys - I'm pretty excited about all of this stuff.
outfit deets: shoes - deena and ozzy via UO // skirt - h&m // tee - h&m // bracelet - vintage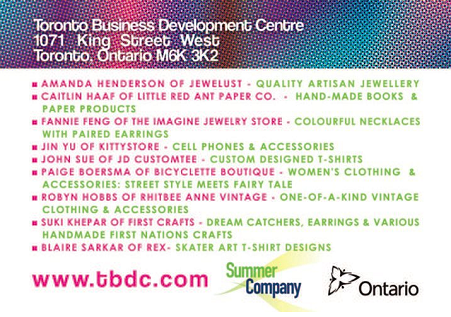 Summer Company Sizzling Sale flyer! If any of you guys live in Toronto I encourage you to come out! Click through the picture to see the event page.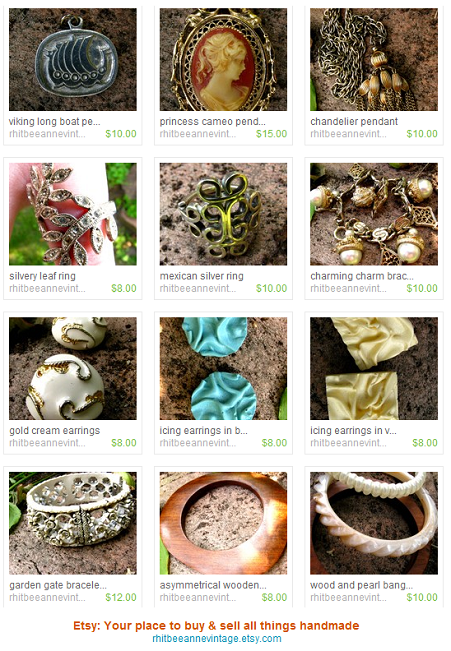 Just a little sneak peek of some of my new Etsy listings! Click through the image to get to my shop!


Lastly, how excited are you guys about Mad Men season 4? I am so excited. It all starts up again on July 25th! Here's a little sneak peak into the wardrobe world of Mad Men: