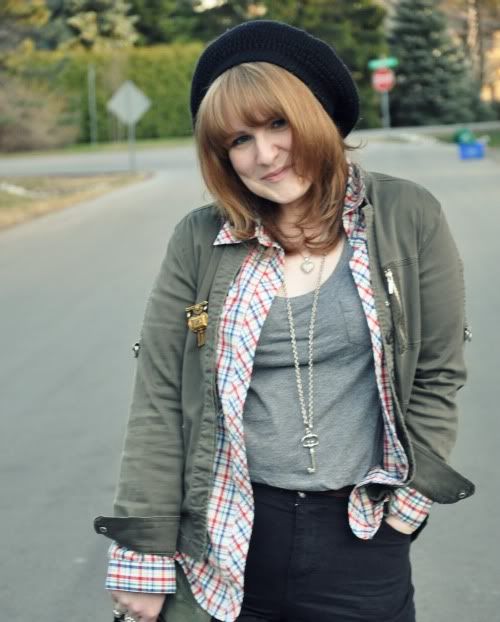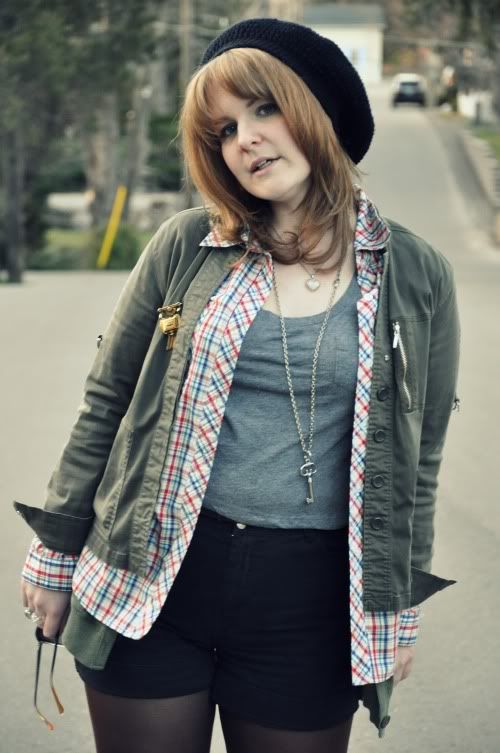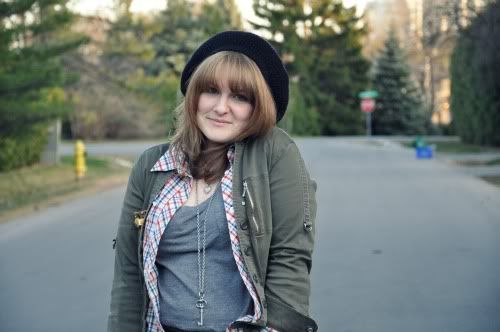 outfit deets: shoes - c/o Big Buddha // tights - We Love Colors // shorts - vintage // tee - H&M // flannel - vintage // jacket - thrifted

Hey peoples! Once again I feel the need to acknowledge my absence. One more week until exams are over though, and then I will have the whole summer to blog freely and get my
shop
back up and running!! Oh yah, and I also have to find a real job.
Yesterday was a big day for a couple reasons. First, I got my fringe back! Ah! Second, I wore shorts. Double ahh! I tend to stay away from shorts because I am too conscious of the way they make my legs look but this vintage high-waisted number is just too good to not wear and you know what? I don't hate how they make my legs look! I am excited to wear this look in the summer without the tights and layered jacket/cardigan/flannel. Can you imagine? Shorts and t-shirt weather? SO excited.
Anyway back to my hair! Dale's mom took me to her hair-dresser yesterday and treated me to a cut and colour (I just had some subtle high-lights done). It was super fun and her hairdresser was a total riot so it was a great experience and I am happy to have bangs again! Plus, they had the OPI shatter nail polish that I have been looking for in the salon so I was excited to scoop that up!
I have missed you all and I can't wait to get back in the swing! How have all of you been? I hope fantastic!
Happy weekend lovelies!
xo Robyn