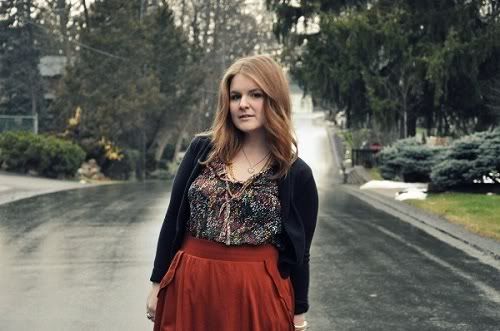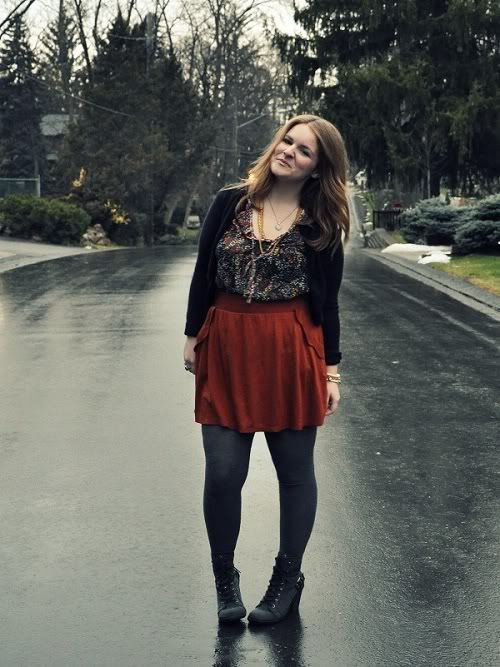 outfit deets: shoes - Jasmin c/o Big Buddha // tights - H&M // skirt - Zara // blouse, cardi - thrift

When I think of New Years there's kind of only one song that comes to mind: Alkaline Trio's Private Eye. It is kind of unfortunate too because the song expresses a sentiment that I have never quite felt and hope to never actually feel. For example, some of the lyrics go "New Years Eve was as boring as heaven / I watched flys *have sex* (another word is used here that starts with f and ends with uck) on channel 11/ There was no one to kiss / There was nothing to drink / 'Cept some old rotten mild someone left in the sink". See what I mean? Totally depressing. Anyway, I bring this song up because while I have never experienced the way in which NYE can be totally depressing I can understand how it could be. I don't really get the point of the event, I suppose it's just as good an excuse as any to have a party but the evening gets way too built up and how is someone expected to have fun with all that pressure? I want to have fun on my own time, on random nights that aren't marked on the calendar because like the great Karl Pilkington once said "You won't get anything done by planning". Alright that is totally untrue but nevertheless I still think the best fun is had on nights when you weren't expecting the fun.
With all of this in mind, Dale and I laid low for the evening and went to Swiss Chalet for dinner and watched Community and Baccano and Shaytards. I wore this outfit to do all of that, well actually I changed into pajamas at about 10pm, but for most of the day I wore this. I picked up the skirt at Zara on sale a couple days ago. I love burnt orange and couldn't resist the thought of having a burnt orange skirt in my closet that isn't
velvet
. I paired it with this comfy bespeckled blouse, my good ol' Buddhas, a cardigan and called it a day. It was a good day too!
How was NYE for all of you? Did you end up going out or staying in?
Anyway lovelies we will talk soon!
xo Robyn
p.s I wasn't feeling celebratory enough so I needed to add in the party hat and sparkler - now we're talkin'!