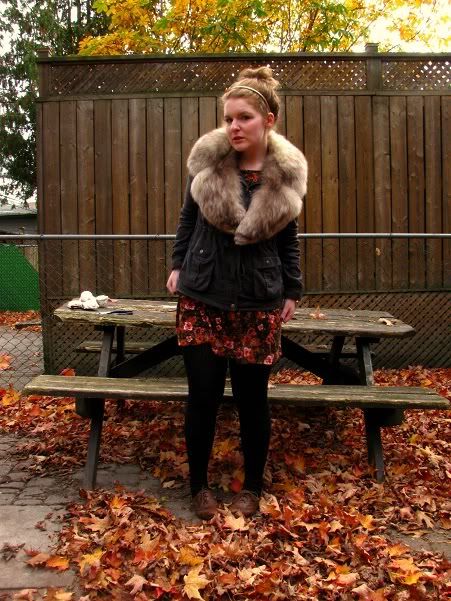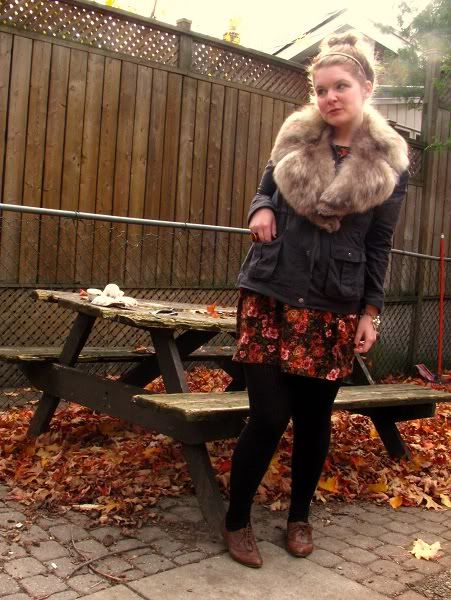 outfit deets: shoes - Big Buddha // tights - h&m // dress - F21 // jacket - Bicyclette // collar - vintage
I've worn a few different variations of this outfit since I acquired the collar and jacket but it's just the perfect chilly Fall day outfit. Fall floral print? check. Favourite oxfords? check. Black tights, cargo jacket, warm fur collar? check check check. Seriously, I can't go wrong in this outfit!
It's almost Halloween! I don't think I am actually dressing up or doing anything particularly Halloweeny except staying in and watching some scary movies - but I am still excited. I love curling up with some candy and watching a good b-movie or two. Honestly, my favourite horror movies are really campy ones. Some of my favourites include Plan 9 from Outerspace, Shivers, and Gremlins to name a few. This year I am getting new ideas for movies to watch this Halloween from James Rofle and his annual
Monster Madness series.
This year he reviews gems like Critters, the Troll Trilogy and Texas Chainsaw Massacre 3. All of which are on my hope-to-watch list this Halloween. What do you guys plan on doing this Halloween? Got any horror b-movie recs for me?
Hope you all had a happy Thursday and a Friday that is equally as happy.
Talk soon,
xo Robyn