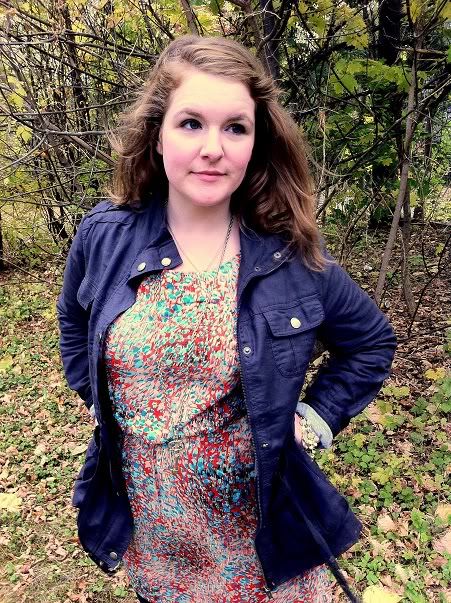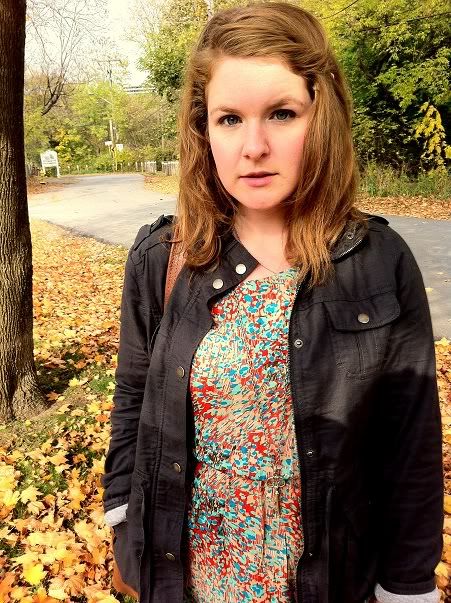 outfit deets:
shoes
- Big Buddha via Modcloth // tights - h&m // dress - F21 // jacket -
Bicyclette
// bag, accessories - vintage
I don't know if a lot of you are familiar with the Group of Seven - but they are a group of Canadian painters most famous for their work done during the 20s. A few of them used to live in around where Dale lives and now their houses are historical sites. We went and checked one of them out on Saturday. Dale's neighbourhood is so gorgeous so it's no wonder a number of them decided to live there. Their art work always reminds me of this time of year so it was appropriate we ended up at this house on a beautiful Fall day. So pretty:

"Autumn in Orillia" by Franklin Carmichael.
I just threw this outfit on to go out for brunch with Dale - I got challah french toast and sausage. Delish! I liked this dress because of it's use of the colour orange contrasted with blue and I thought it would fit in perfectly with my wardrobe and besides - so great for Fall! Paired with my Bicyclette jacket and my trusty Big Buddha oxfords it was a pretty awesome outfit for that day.

I hope you all had great weekends, did anyone do anything fun?

xo Robyn

p.s. these photos were taken with Dale's iphone4, can anyone tell the difference from my regular photos?