"if my mind's the weapon, my heart's the extra clip"
The Movielife- Jamestown from 40 Hour Train back to Penn
This week's on repeat involves a little bit of a flashback. OK - it's actually a pretty huge flashback. In High School I was pretty into punk rock/pop punk - I dunno, whatever the heck you want to call it (ex. Alkaline Trio, Finch, The Used, New Found Glory, Autopilot Off...to name a few.) My hands down favourite band was The Movielife, though. It's funny because if you were to ask me now what my favourite band was I would be hard-pressed to answer you. I could probably manage a top 10, but to name a favourite? Not happening. It wasn't a hard question for me for the better part of my adolescence though. Movielife all the way.
I can't remember how many times I saw The Movielife live, but I remember the first time I saw them. It was December 13, 2002. I had just turned 16! I went with my friend Persia and we waited outside the venue (the now dead and gone Kathedral) cause that's what we were used to doing. The opening act was Closet Monster (it was the first time I saw this band too but later on I went to see them again about 20 plus times). I was wearing my favourite shirt - which was this black polo shirt with a white stripe across the front and a white and red collar and my FAVOURITE pants - these hugely wide carpenter jeans and probably my grey Vans. Yeiz. Also, please note the glasses! Shortly after this I religiously switched to contacts for the next 6 years to come. It was only a few months ago I tried glasses again!
Despite my extremely dorky appearance the photo below is still one of my very favourites. Vinnie (the lead singer of the Movielife) always did this thing where he would stick the microphone into the crowd and let the crowd or a particular person in the crowd sing. Jordan from New Found Glory did this a lot too. It was always pretty hilarious because most of the time the people singing along were terrible, I'm sure I was terrible too but whatever. I still remember what lyrics I sang in to the mic... "this time next year I'll be listening". Amazingly, David from
all fall down
caught the moment on camera!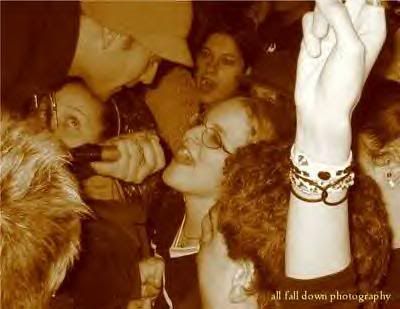 Alright I should probably stop dorking it up now before I embarrass myself too much.
What are some of your favourite bands from years past?
xo Robyn
p.s. The Movielife is still totally in my top ten