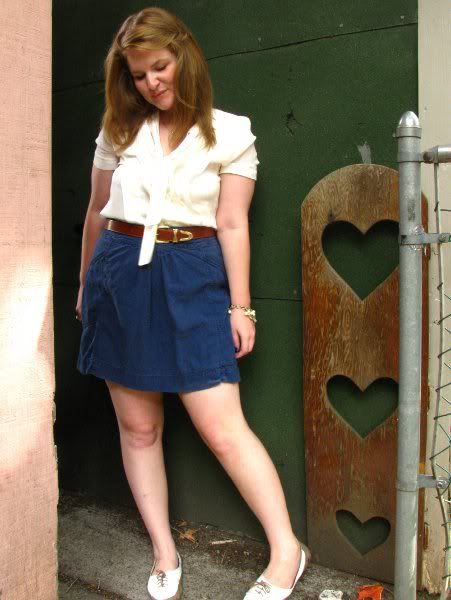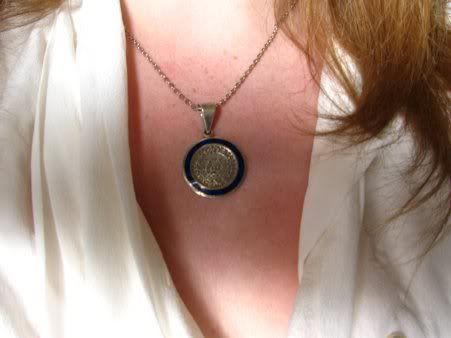 outfit deets: shoes - UO // skirt - thrifted // blouse - Joe // necklace - Dale // bracelet and belt- vintage
I don't know if you guys have noticed before but I always wear the same necklace. You can see it vaguely in the last picture there. Dale gave it to me for my birthday last year and I've barely taken it off since. I love that it has gold and silver in it - because I never have to worry about what kind of jewellery I can wear with it. It's perfect, I couldn't have picked a better necklace out myself. It's also real shiny because it's diamond cut silver. I love shiny things. I'll get some better pictures of it at some point so you guys can see it better.
Anyway I often pair other necklaces with it but only ones that are longer, which ruled out the blue and silver necklace pictured above. On a longer chain it would have gone perfect with this outfit but I didn't have a longer one available so I just took some quick photos of it for the purposes of this post! Also, it's going up in
the shop
in a few days so I didn't want to fiddle around with it too much. It's got the craziest design on the front that looks very celtic and something engraved in the back but aside from the numbers I can't tell what it says. I think it might be in another language.
Alright guys so the
Rhitbee Anne Vintage giveaway
ended last night and the winner of the twohearts silver ring is...
Brooke
! Who was actually the last person to enter and was worried she wouldn't make the deadline. Congrats! I'll be sending you an e-mail soon to ask for your mailing info!
I'm going to have another
Rhitbee Anne Vintage
giveaway soon for a voucher to the shop, so keep your eyes peeled for that!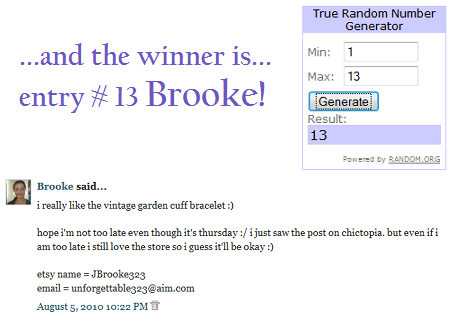 I'm off lovelies! Today is the day of my photoshoot. I'm just a little nervous - but mostly excited :)
Hope you guys are having a great start to your Fridays,
xx Robyn