Hey guys! So, I got glasses. I actually have really terrible vision, but for the past 6 years I have been pretty exclusively wearing contacts. I decided it was about time to get some glasses that I might actually enjoy wearing, so I got these guys. Aesthetically speaking I am pretty pleased, even though sometimes I look in the mirror and feel like I am 12 again. I am having one hezmattah of a time getting used to the way they make the world look, though. For those of you who wear glasses, is there a difference in the way the world looks with glasses vs contacts? I can't tell if my dilemma is a normal one or not. In any case, I think I am beginning to get used to them.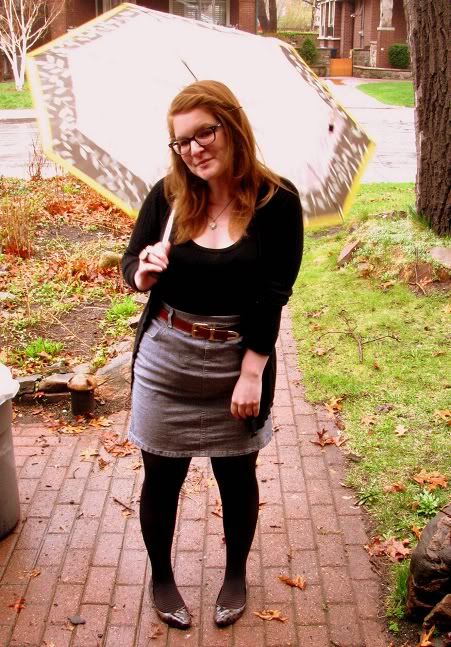 I had fun taking pictures outside in the rain today. My umbrella is pretty over-exposed for some reason but that's okay because it's not-so-cute. A whole slew of little kids walked by as I was taking pictures, it was super distracting, I got a few snaps with them included but they all turned out blurry and I didn't exactly want to post their little mugs to the innernet without permission.
I have worn almost this exact outfit twice this week (save for the tights). It's actually so comfy and I love the look with the glasses. The skirt is another holy-grail thrift find. It has just the perfect amount of stretch and I know it is probably hard to tell from the pictures but it has this cute little two-tone pattern.
outfit details: tights h&m // skirt, cardigan, tank - thrift // shoes - gift from aunt
I included the above photo despite its over-exposedness because of the little Robin posing for the camera on the right! So cute. Robyn and the Robin. My first of two Roby/in features, you guys will see what I mean later.

talk soon,

Robyn :)