Hey party people. How's it going? Yesterday we took a walk to one of the cemeteries near Dale's house. It's a very old cemetery, I think the newest grave is from about 50 years ago but most of them are older than that. I am rather fond of walking around in there but we haven't had the chance all winter. Yesterday was so nice though so we took advantage of the sun and double digit temps. Yay for spring-like weather!
outfit details: jeans - Gap//flats - payless//tank & cardigan-h&m//blazer-vintage//scarf-gift//sunglasses-F21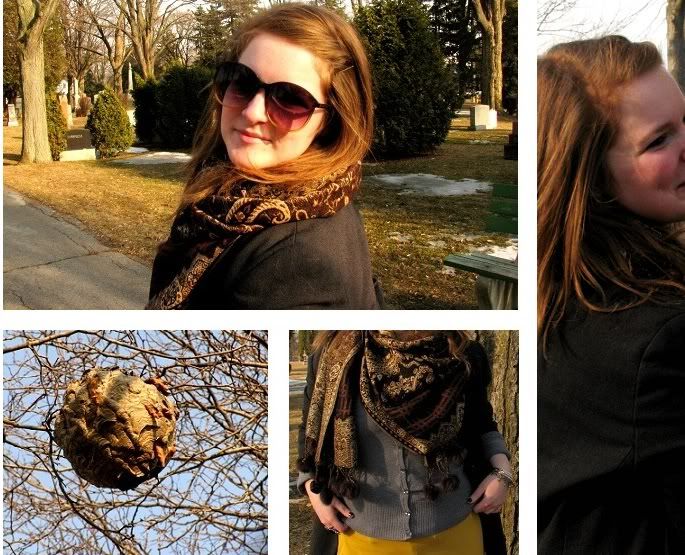 "Think I'll pack it in
and buy a pick up. Take it down to LA. Find a place to call my own and try to fix up. Start a brand new day.
"

Out on the Weekend.
In my opinion, these photos just
feel
like Neil Young's album Harvest. One of my favourite songs from that album is Out on the Weekend cause it just fills me with imagery of Neil in his pick-up driving south with his acoustic guitar thrown haphazardly in the back. It's actually kind of a funny image, now that I really think about it. It is odd that these photos remind me of Neil Young because that album has always reminded me of Fall (duh! right? Harvest!) In a lot of ways my outfit yesterday was more Fall-ish than Spring so that makes sense. Yesterday certainly
smelled
like Spring though. mmm! The transitional months are my favourite and that is probably in large part due to the fact that I love the fashion (read: layering w/o big winter jackets!) that come with them. Don't get me wrong, I love my collection of winter jackets but I just tire of them past March.
My friend has been in India since the beginning of February and I got a post card from her yesterday. I was so excited that I took a picture of it with one of the new rings I picked up over the weekend. In the post card she told me how totally nuts I would be going over all of the pretty textiles - so jealous! Miss you Persia.
Talk soon!
:)