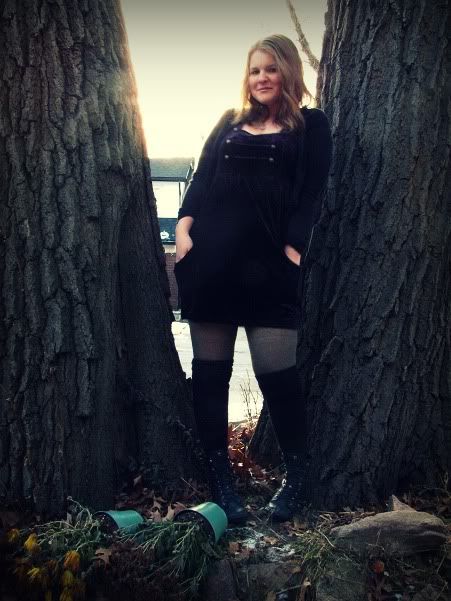 outfit deets: shoes - c/o Big Buddha // thigh highs - American Apparel // tights - H&M // dress - Forever 21 // cardigan - thrifted // coat - vintage // scarf - H&M and remade


My gosh it is cold out! I found that in most of my photos today I was giving the stink eye to the camera. It was so cold! I was disgruntled with the air. It wasn't until the very last photo that I cracked a smile - probably because I realized I would be able to run in the house in a few seconds. Believe it or not, I am still wearing all of the attire pictured in the first two photos as I sit here and write this because I am still FAH-REEZING. Did I mention it's cold? There is a cold weather alert in my area. Brr.
I wore this out for a thrifting adventure in which I bought a big warm fuzzy white sweater among some other great finds. I have been on the lookout for big sweaters lately and I'm glad I found this one before christmas! I picked up this purple crushed velvet dress from Forever 21 a little while ago and have worn it a few times since but never managed to snap decent outfit photo of it. I love the slight military detailing with the buttons and the slouch pockets are a great touch.
Anyway - I am off to see
Waiting for Superman
at the local theatre with some friends. I am hoping it's good - I'm sure at the least it will be insightful.
I'll be back tomorrow with a new outfit methinks, I've been a bad blogger this week.
Just so you know, I adore you guys and all of your sweet comments.
xo Robyn