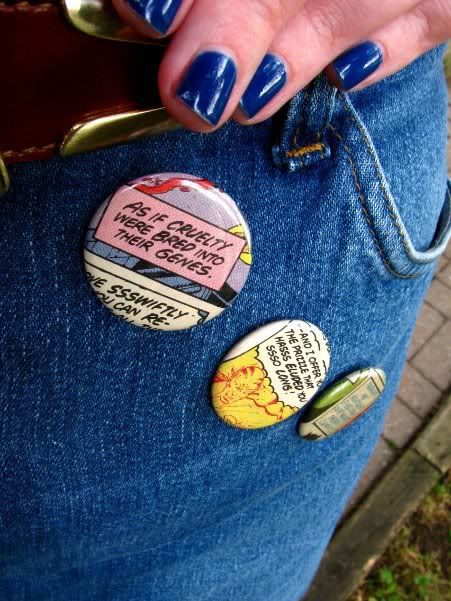 outfit deets: shoes - vintage naturalizers // skirt - vintage Levis // belt - vintage // tank - vintage Le Chateau // bracelets -
Rhitbee Anne Vintage
I picked up this months Nylon and was totally inspired by
Drew Barrymore's cover photo!
So with that photo in mind I styled up this outfit. It's still summer and humid so a heavy denim vest/long sleeved chambray button up was out of the question so I got the denim in there by putting on my vintage Levis denim skirt. I got the sparkle in by throwing on this vintage Le Chateau lace tank. Finally, my favourite part of her outfit was her sweet little shorts and the adorable little patches that line the sides like pockets! Obviously I don't have any shorts like that so I improvised and lined the pocket of the skirt with these awesome buttons I got from Caitlin at
Litte Red Ant
. She makes them from old comic books she gets at the Silver Snail downtown!
Which brings me to my next topic! I have a links list/blog roll of all of my daily reads and lovelies in the blogger world and now I am going to make a new links list for my friends, family and colleagues. A lot of the people on thist list I met through a program I am participating in this summer that has helped me out in starting up Rhitbee Anne Vintage (thats how I know of Caitlin). So check out some of the links when you can! I will be blogging about more of these awesome people in the future.
In other news, I have signed up for an Etsy showcase that starts tonight at midnight. I'm not sure how that will work out, have any of you Etsy sellers had any luck with showcases?
Finally, all of the vintage bangles seen in this shoot (plus many others) will be going up in
the shop
very soon! yay!
Hope you're all having lovely days,
xx Robyn