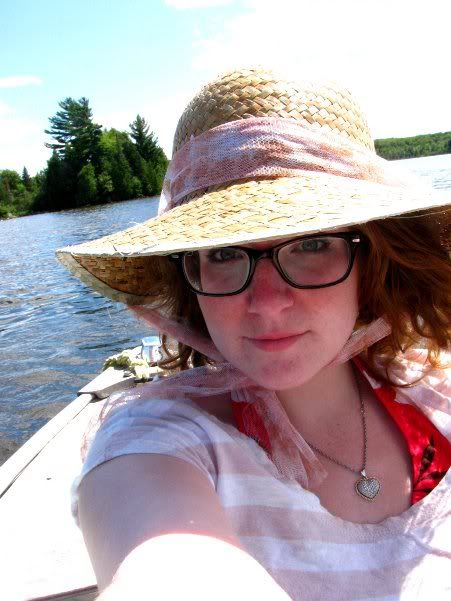 It was super windy on the lake so I tied the scarf from my hat around my neck.
I look a little special but at least my hat didn't blow away!
As promised here are more photos from my weekend at the cottage. Regrettably, this was only my first time up this summer. I'm glad I made it up though because it was beautiful up there. I went with my dad and his friend and my friend Adrienne. We were a bit of an odd combination but it was fun nonetheless. We went mudding in the jeep and out on the lake in the boat. My dad even got towed behind the boat in an inner tube. I have a lot of great pictures of that but I will spare you.

For cottage attire I mainly just hung out in cut offs and t shirts. I brought my white tennis shoes which was a bit of a mistake. After going mudding they aren't so white anymore. Dang. My favourite part about my wardrobe for the weekend was my hat! Kept my face out of the sun quite perfectly.

One of the awesome things about my cottage is that it is littered with little treasures like the cherubs pictured below. My grandmother is a bit of an artist and in her old age she has taken to painting figurines. At a point our house was just overflowing with them so my mom decided to take a bunch of them up at the cottage and just tuck them into all sorts of places all over the cottage. You will find them everywhere - even a mile away from the actual cottage in the woods! They are the guardians of the cabin.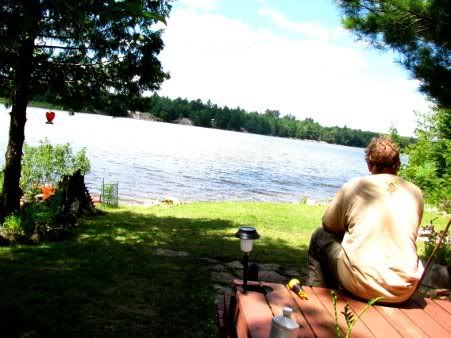 My dad in his favourite spot on the deck.