Hai guys! Hows it goin'? SO I like me a good TV show and some of the best TV shows are sci fi shows as far as I am concerned. Firefly, Farscape, and Battlestar Galactica are some of my favourites but my all time fave space sci fi to date is Doctor Who! The shirt I am wearing today is a tribute to two of the coolest time machines in sci fi history :p. The Doc's DeLorean from Back to the Future and the Doctor's Tardis from Doctor Who - and they're crashing into one another! How cool is that?
I'm not sure what it is but a good TV show really does it for me, moreso than a good movie. I think I just like the fact that you have so much more time to tell a full story with a serialized TV series and I love that. I love being able to connect with the characters and watch them grow or deteriorate, whatever the case may be. In any case, you should check out the new Doctor Who series because it is definetely worth your time! It's a BBC series that has been deemed the longest running sci fi television show in the world. I'm only really acquainted with the new series that started in 2005, but I have loved every moment of it. Most shows can make me laugh and cry on different occasions but this is the only show I have ever watched that has made me laugh and cry at the same time.
I know there are some people reading this blog, so I wanna know what some of your favourite shows are. I'm always in the market for a good show! I learned about two of my fave dramas (Mad Men and Skins) from reading blogs and I'm thirsty for more.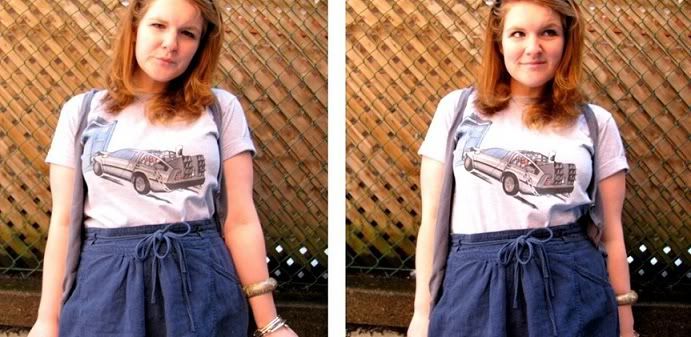 outfit details: skirt - pacsun // tee - shirt.woot.com // bracelets: vintage/aldo // vest/leggings: h&m // boots: vintage
Anyway, about my outfit: for everyday I often like to pair a tee with a skirt but I haven't been able to do that a lot lately because I have this weird thing about not liking to wear t shirts under sweaters and cardigans and it has been too cold to not wear a cardigan. I just don't enjoy seeing the line of the t shirt sleeve through the cardigan. I still do it sometimes because I have some tee's I just have to wear, like this one!
*currently listening to: mock orange - smile on (Captain Love)